So here we are back with Sean Connery again.  Thunderball was the fourth Bond film produced, and is typically identified as the pinnacle of Bond-mania.  Goldfinger, which was released the year before, had been the biggest hit in the series so far, bringing into the series gadgets and more daring sexual double entendres.  There was nowhere else to go but beyond.  (Thunderball is still the best grossing film of the series, if adjusted for inflation.)

Now, I'm not a huge fan of the Thunderball story.  I mean, sure, everything that Bond is known for is there, but it just seems to take forever to resolve itself.  I know that's funny coming from a guy who adores long movies, but when the plot is kept from you until the end of the movie, things can get taxing on one's attention span.   I don't mean there isn't any action or anything, no sir.  In fact, the movie has more action than any of the preceding Bond films.  It's simply that it's action for action's sake, which I have never been a fan of.  It's why I tend to not watch action films as a rule anymore.
I'm not going to attempt to explain the plot here in detail.  I'll just give a brief synopsis.  Bond (Sean Connery), must find out what happened to a jet that disappeared with two armed atomic bombs.  It seems as though the crime syndicat SPECTRE may be responsible.  It's pretty straightforward, but it's a spy movie.  Therefore the main thing here is espionage.  He has to follow this guy Largo and his mistress Domino to find out what's going on. Then there's swimming pools with sharks, really fast yachts, health spas, and epic underwater battles.  It's pretty cool to watch once or twice, but it gets old really quick.  This is one case where a movie's epicness is it's undoing.  It's the first Bond film over two hours, and they haven't figured out to hold our attention for that long yet, especially with Connery starting to get bored of the role.
I will say that though this used to be one of my least favorite Bonds, it has moved up quite a bit.  It's nowhere near as bad as it's remake, Never Say Never Again.  I would definitely and without hesitation say that it's the worst of the first four Bond films, though, no doubt about it.  It's just not as taunt and well crafted.  It's almost as though it were rushed out.  One thing I used to hate was the big underwater battle at the end.  This time I thoroughly enjoyed it.  I think it had to do with finally being able to tell the difference between the good guys and the bad guys thanks to high-def.
Locations:  7/10  France, the Bahamas, underwater Caribbean, and off the coast of Miami, FL.  It's not as many locations as some Bond movies, but here the series is still showing an idealized view of these places, which is right for the series at this point.  The Bahamas in particular are showed off beautifully.  The underwater sequences were cutting edge at the time, and I'm still amazed. 

Villains:  7/10  Blofeld is back again as the head of SPECTRE, but he's not given much screentime or much to do other than bark orders and execute his own people.  The main villains here are Largo (Adolfo Celi), and Fiona Volpe (Luciana Paluzzi).  Volpe is the familiar evil Bond girl, who tries to seduce Bond and then kill him.  She's quite good, but not very attractive in a modern audience sensability.  Largo is pretty much a harder edged Auric Goldfinger, stylewise.  He's charming and nasty at the same time.  You can tell when he's become pissed off, and that you'll regret it later.
Bond Girls:  10/10  Other than the evil Fiona Volpe, we have three other Bond girls here of the good sort.  There's Patricia Fearing (Molly Peters), who becomes close to Bond as he's recouperating at her health spa.  She's not in the movie for long, but she's nice to look at.  Then there's Bond's assistant, Paula (Martine Beswick), who ends up the same way Bond's assistants usually do; dead.  Finally there is who is probably the best remembered Bond girl this side of Honey Ryder.  Here we have Domino (Claudine Auger).   She's very beautiful, pretty tough, but still helpless in a way.  She's a virtual prisoner to Largo.  She's one of the best in the series, as are the other two lesser girls.
Direction/Design:  5/10  Now I do like the fact that they finally decided to move Bond up to a 2.35:1 aspect ratio from a 1.66:1.  It allows for a more epic experience.  Yet I can not praise the move to a longer running time just for epicness sake.  The director of this one is the director of Dr. No and From Russia With Love, and as such is less cartoony than Goldfinger was.  I think that perhaps more cartooniness could have made this particular film better.  It's almost too serious.
Theme Song:  3/10  I really don't like Tom Jones' Thunderball.  It's too Vegasy for me.  It was a last minute addition though, as originally a song called Mr. Kiss Kiss Bang Bang was the title song, sung by Dionne Warwick.  That song was much better than the final product, but they were afraid of putting a song in that was not the name of the movie.  Oh well.
Over-all:  5/10  Another average Bond movie.  Yet coming from a Connery film, that's pretty bad.  It's got great girls and locations, etc.  All of the puzzle pieces are there, but it's put together wrong somehow.  I'm going to blame it on the fact that the book wasn't solely written by Fleming.  Hell, it's as good a reason as any.  I'm baffled as to why it doesn't work for me... It just doesn't.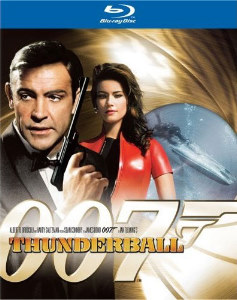 I have to say that the picture quality on this one is not as good as the others.  I think it's due to the fact that a lot of optical effects were used.  Back in those days the more opticals used, the more the picture suffered, sadly.  Still, the rest of the blu-ray package is great.  Informative documentaries, commentaries, and such.  I still highly recommend.
((( I need to point out that I was supposed to review Julie & Julia last week.  To tell the truth, the movie was so self explainatory, I couldn't figure out anything to say about it.  The Julia Child side of the story was great, and the Julie Powell side, kind of dull.   However the Julia Child portion was so good and heartwarming that I give Julie & Julia ***1/2 out of *****.   For more in-depth analysis, hear what I said about the film in the 58th episode of the Front Row Center talkshoe show. )))
James Bond reviews will return soon with a review of The Man With The Golden Gun, after which, a long break will ensue due to no other Bond blu-rays being released presently.